Over the recent years cancer has become a common word in our sentences and there has also been a lot of misconceptions about what can and can't cause cancers, which am sure we have at one time or another come across them. we all know someone personally or not so who has been affected by cancer.
On Saturday I had attended Zumba at mamba village organized by Supamamas and there was particular lady whom I never got to know her name was trying to sell a product (can't remember the name of the product as well) under the waters, lol that apparently captures cancer cells, in her words. The off part was the fact that she told us that each and every one of us has cancer cells and for this reason we should all buy that medicine. Now I am not a medic but I feel she was misleading us, I understand there is the fact that we can have radical cells that can sometimes turn cancerous but not that we all have cancer cells in us, I will do more research on that however if I am wrong.
So during the event I met ladies from women4cancer who are a non profit organization in Kenya that was formed in 2012. They advocate for early detection and treatment to improve the outcomes of cervical cancer which is preventable and treatable if discovered early. They went ahead and showed us how to do self examination for breast cancer. What stood out for me about the organization is how they believe that cancer can be kicked out of Kenya and that is their aim and they advised on going for screening with all your lady associates be it family or friends because this is the best way we can detect it and murder this disease. I left there infected with the hope that it is indeed possible and I am finally going to face my fears and go for screening with a couple of my friends this week because I have always been told how uncomfortable and painful the whole procedure is, I have always wanted to go for it from last year but hey! Prevention is better than cure and I have joined the wagon to help women4cancer kick out cancer which you can to.
What do women for cancer do?
They give awareness talks reaching over 10,000 people in different parts of the country. Which also involves mass media for awareness campaigns on TV, radio and newspapers.
They have free screening medical camps in counties such as Kisumu, Kiambu and Nairobi e.t.c Which has seen them screening over 1500 plus women with free pap smear tests.
They offer pre cancer treatment through non surgical interventions among other things and to top this all they have trained cancer advocates so they can't offer mis information like the way I felt that particular lady in the crowd was doing to some of the women.
Their mission is to raise public awareness of the benefits of early testing and facilitate early detection and treatment to reduce the prevalence of cervical cancer which goes hand in hand with their vision where every woman can access cervical cancer screening and treatment.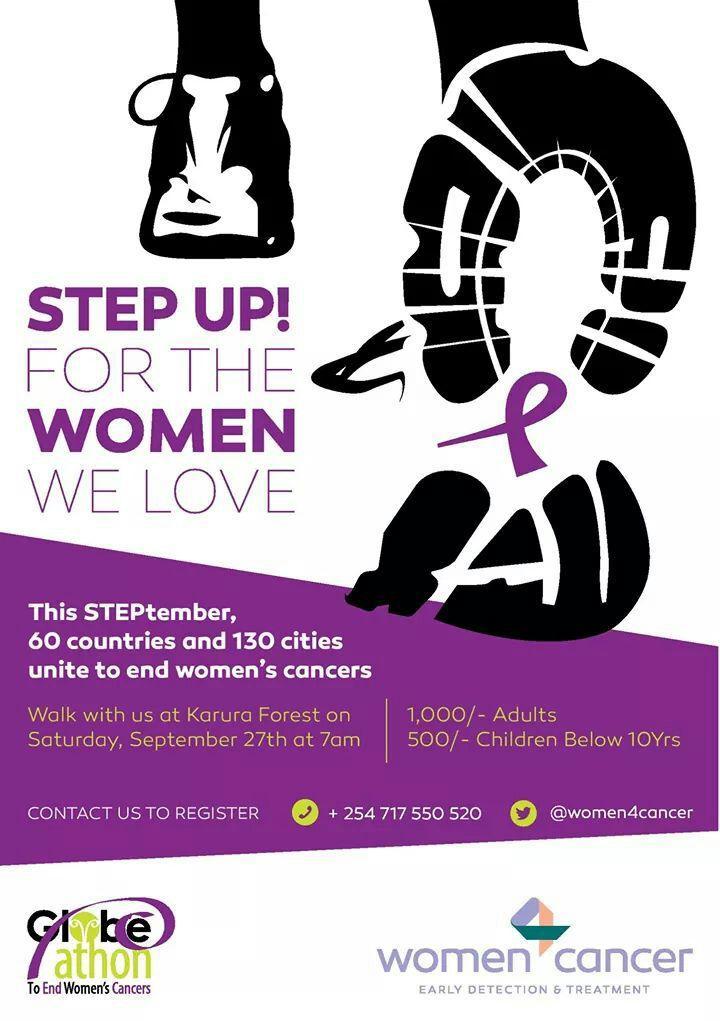 What I gathered for the talk about Cervical Cancer:
Cervical cancer is caused by sexually acquired infection with HPV, most people are infected with HPV shortly after onset of sexual activity. Screening for cervical cancer helps detect pre cancer and early stage cancer of the cervix for women at risk, most of whom will be without symptoms. Early detection and treatment of precancerous lesions can prevent the majority of cervical cancers.
At a minimum, screening is recommended for every woman 30-49 years of age atleast once in the life time. I think it also will be best if you do it yearly just to be on the safe side. For the breast examination, they suggested that you could do it monthly, let us say you are born on 23rd, so every 23rd of the month you do a self examination test.
Globally, every year more than 270 000 women die from cervical cancer between 30-49 years old, most of who have never been screened even once in their life. Cervical cancer is the leading cause of cancer deaths for women in Kenya. Survival rates for cervical cancer can be further improved by establishing effective cancer treatment programmes.
This September, you can be part of the people who will help kick out cancer out of Kenya because Women4cancer have come up with a walk to step up for the women we love which will see women who can't afford this treatment actually being able to access it for free.
See poster for all details, see you then!
Also, you can join them for they rely on well wishers to support their work through cash donations, cancer awareness talks, fundraising activities and medical camps, kind donations of medical expertise or equipment. I managed to get their number as well, 254717117446 just incase you want to contact them or through social media.
Let us step up for the women we love!!
P.S: No, this is not a post sponsored by women4cancer, I just fell in love with what they do and I want to help them create awareness the best way I know how.